Related Links
American Kennel Club
Great Pyrenees Club of America

Euzkalzale Great Pyrenees Pyrpacker
More Information
Please Contact Us Via Email With Any Great Pyrenees Questions or Information Requsts.

pyrpacker@aol.com
or Info@pyrpacker.biz
Euzkalzale Great Pyrenees Breeder
Terry Denney-Combs
Hesperia, California
(760) 792-6757

Pyrenees Puppy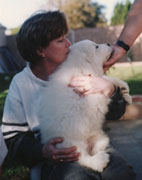 Glory Be! at 8 weeks old with Becky Graves.
CH Euzkalzale Glory Be!
She went on to achieve a Hall of Fame award from GPCA for production.

Two 4-week old Male Pyrenees Pups



-photo by M Cristillo
Great Pyrenees Breeder since 1971
Comments About
Website Function
Email Website Problems or Request Link Updates To The Webmaster.
webmaster@pyrpacker.biz

History of the Great Pyrenees
Historically, their heads were likened to bears. Their kind demeanors gentle until provoked; a breed that was developed centuries ago by Basque shepherds to go out on their own to guard their personal flocks of sheep while the men slept by their campfires. Most active at dawn and dusk when predators are most likely to attack, it was not unusual to see a pyrenees wrapped around a new-born lamb to warm it or to stand at the edge of the herd, barking defiantly, daring any predator to come closer to its charges. The great dogs continuous low deep barking signaled all was well to the Basque shepherds as they rested.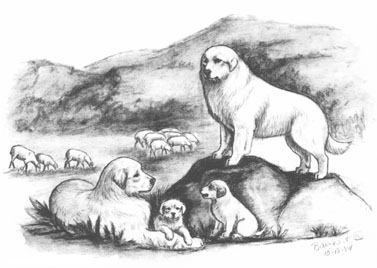 Pyr Drawing © 1984 Barnhart Studios
The Great Pyrenees comes from the Pyrenees Mountains located in Europe in the area bordering between France and Spain where the Basque shepards use these unique working dogs.
These ancient, majestic and intelligent dogs also had great beauty which did not go unseen by the local french royals who brought them to court in the 1600s where their quiet regal bearing and protective devotion was much appreciated.
In France, Bernard Senac-Lagrange, founded the original Pyrenees Club at the turn of the century. He felt that overall the unique expression of the dogs was what set them apart from other breeds: "Only the true breed possesses this bewitching, almost indefinable expression in the eyes, both distant and caressing, contemplative and just a little sad. As you look in these eyes, the immense moral value of the breed pierces your soul."
Great Pyrenees Introduction to the American Kennel Club
Mary Crane is credited with introducing the breed to the American Kennel Club and saved many from being destroyed during WWII by bringing as many pyrs as she could to the USA during that time. Her devotion proved as strong as any pyrs as she continued to serve the breedís best interest by judging and taking part in education well into her later years. The breed has been blessed with others who have followed her lead, helping to maintain this unique breedís beautiful characteristics throughout this century and on into the future.

[This original article on the breed appears in the June 1, 1932 issue of The American Kennel Gazette Vol. 49, No. 6.]

Pyrenees Mountains
"To once own a Great Pyrenees is to want one always." -Mary W. Crane
[Excerpts from The Complete Great Pyrenees by Paul D. Strang and James M. Giffin,
1st ed. 2nd printing, 1978, Howell Book Hours Incorporated.]

Back to Top