Related Links
American Kennel Club
Great Pyrenees Club of America

Euzkalzale Great Pyrenees Pyrpacker
More Information
Please Contact Us Via Email With Any Great Pyrenees Questions or Information Requsts.

pyrpacker@aol.com
or Info@pyrpacker.biz
Euzkalzale Great Pyrenees Breeder
Terry Denney-Combs
Hesperia, California
(760) 792-6757

Pyrenees Puppy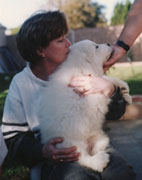 Glory Be! at 8 weeks old with Becky Graves.
CH Euzkalzale Glory Be!
She went on to achieve a Hall of Fame award from GPCA for production.

Two 4-week old Male Pyrenees Pups



-photo by M Cristillo
Great Pyrenees Breeder since 1971
Comments About
Website Function
Email Website Problems or Request Link Updates To The Webmaster.
webmaster@pyrpacker.biz

How to Contact Us
Fill in the form below to send in your questions for more information on our Great Pyreenes, availability of puppies and dogs, show information, and other Pyr questions. Please read through our purchase agreements first before contacting us.
Purchase Agreements
If you would rather contact us by telephone, then please call Terry Denney-Combs, in Hesperia, California at (760) 792-6757.
Contact Form
Comments on the Website
Please contact the Webmaster at webmaster@pyrpacker.biz, if you experience any problems with the Website's functionality or if you have comments about the Website's design or other Web related issues.

Back to Top