Related Links
American Kennel Club
Great Pyrenees Club of America

Euzkalzale Great Pyrenees Pyrpacker
More Information
Please Contact Us Via Email With Any Great Pyrenees Questions or Information Requsts.

pyrpacker@aol.com
or Info@pyrpacker.biz
Euzkalzale Great Pyrenees Breeder
Terry Denney-Combs
Hesperia, California
(760) 792-6757

Pyrenees Puppy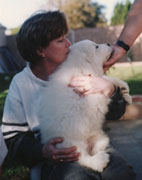 Glory Be! at 8 weeks old with Becky Graves.
CH Euzkalzale Glory Be!
She went on to achieve a Hall of Fame award from GPCA for production.

Two 4-week old Male Pyrenees Pups



-photo by M Cristillo
Great Pyrenees Breeder since 1971
Comments About
Website Function
Email Website Problems or Request Link Updates To The Webmaster.
webmaster@pyrpacker.biz

Truly a GREAT Pyrenees!
DD - A Once in a Lifetime Dog
Intl., Am., Cn., & Mx. CH Euzkalzale Sundance Legend, HOF/HOF
All-Time AKC Rankings

| | |
| --- | --- |
| | Number 1 Great Pyrenees of All-Time Breed Competition defeating over 4,000 Pyrenees |
| | Number 1 Pyrenees in USA All Systems 1996, 1997, & 1998 |
| | Number 3 Top Winning Pyrenees of All Time, All Breed Competition defeating over 74,000 dogs |
| | Number 2 Pyrenees in Canada 1996 |
DD with Karen and Terry taking his 14th Specialty win at the age of 9 years.
Halsey
Intl AKC/UKC GCHS Euzkalzale Legacy of Hope HOF RN TDI CGC

Halsey is a stellar representative of the breed. He has helped to build confidence in special needs children, earned money for Pyr rescue and has been used to educate about the breed in various venues.

Halsey is a top winning Pyr in the conformation ring that was finished out of the Bred by Exhibitor class in MN. Not only is he in the GPCA Hall of Fame and was chosen Select Dog at the 2015 National, he has been in the TopTen nationally for the last five years (six in top twenty), was the #2 ranked owner-handled dog in 2014, has multiple AKC Group One's and 60 group placements and has achieved his Silver level of his AKC Grand Championship. Halsey has won two Best in Shows in the UKC and is a UKC and International Champion.

His legacy continues through some fine upcoming dogs including a son joining him in the top 20 this year.

Valor

3 Years Top 20
Service Dog for Diabetic Owner
GPCA Gold Health Award

- Photo by Sharon Carvalho

Intl AKC GCHS Euzkalzale Mont Valier CGCA,CGCU, FDC, TDI
Vegas



2015 Hall of Fame Outstanding Dam
Dam of Sky also a Top Producer in 2017
Granddaughter Annie Top 20 2017

Fantasy

Fantasy was a Top Producing Dam in 1996.

Fantasy often visited with Alzheimer's patients in a clinic along with her owner and with her Pyr relatives Vincent and Socks. Many of the patients actually remembered the "white dogs" and looked forward to the Pyrs visiting them.

CH Euzkalzale Fantasy De Berna CGC

Euzkalzale Bright Lights! Big City! HOF

Ms Black

| | | |
| --- | --- | --- |
| - photo by Toyomi | | - photo by Cook |




Intl GCHS Euzkalzale Pama Kiss CGC
Jammies
GCHB CH Euzkalzale P.J. D'Chanterelle TDI CGC
Brody and Terrie Strom

Sky

Sky

2017 Top Producing Dam Award

Her Daughter Annie Top 20 2017

Intl AKC GCHS Euzkalzale R Pyr Apache Sage

CH Euzkalzale Apache Crystal Sky! HOF
Bosley and Dreamer
Bosley at 9 years old amd Dreamer at 12+ years with years of therapy work with owner Betty Walsh behind them.

Both were long-term therapy dogs serving people in a wide variety of settings including UCLA Medical Center where they brought healing, comfort and joy to an enormous number of patients, doctors, families, nurses and staff throughout the years and became the icons of the animal therapy program. Additionally, they annually visited Juvenile Hall on Christmas mornings, were regulars at Motion Picture TV Hospital, Los Robles Hospital, numerous nursing homes, "read to the dog" programs at children's libraries; they dropped by Cal Lutheran University during exam breaks, and even found time to do "on-call" home visits.


CH Euzkalzale Ashes In Snow! TDI
Euzkalzale Wintertime Dream'n TDI
Breezy
Breezy achieved her International and Mexican champion, as well as an American Champion, and also attained her CGC (Canine Good Citizen Award for the AKC).

She is note worthy in that she was still competing and winning specialty BOS well into her later years. Breezy was 7years old in this picture.


Intl., Am., & Mx. CH Euzkalzale Summer Breeze CGC
Benjamin
Benjamin achieved his International and Mexican Champion, and an American Champion too. He achieved both his championships and his CGC (Canine Good Citizen Award) in just one year.

Benjamin also attained a TD, meaning he was a licensed Therapy Dog. He, along with his owner, used to visit the sick in hospitals to offer emotional support.

Intl., Am., & Mx. CH Euzkalzale Lobengula CGC
Kolya
Kolya has his Canine Good Citizen certificate and is a Delta Society pet partner (ID #38649).
He has two Versatility Awards from the GPCA national specialty - Versatility Ambassador and Versatility Emissary.


Kolya's work has appeared on the "TODAY" show segment, in Time Magazine article(s), in an L.A. Times magazine article, in a Santa Monica/UCLA Medical Center magazine article, in a UCLA magazine article, and,in a nice piece in "Crossfire", Crossroads School's student newspaper.

Photo - Adam and Kolya at the UCLA Medical Center

Euzkalzale Kolya

Patton
Patton has his CGC, TDI and RN certifications. He works as a therapy dog at an elderly care center with Alzheimers patients. Patton goes to the rehab unit at a local hospital and brings joy to the special needs students that suffer from brain trauma, autism and Down's syndrome at Simley High School in Minnesota.

His quiet presence in these places has brought comfort and joy to the people he meets. He definitely is a credit to his breed.

Intl., Am., CH Euzkalzale Heart of a Soldier RN HOF CHIC

Stratus and Icy
Brother and sister (Quest x Glory pups), at one year old, shown going Best of Breed and Best of Opposite Sex at Lake Mathews Kennel Club.

Stratus finished in 64 days and was entered in 7 shows.

Icy finished in just 36 days, was entered in 9 shows, and went Reserve Winner's Bitch at the 2000 GPCA National.

CH Euzkalzale Raise the Bar! and CH Euzkalzale Ice Baby
Sumo
Sumo was a young dog close to finishing his championship when by accident he followed a guardian Pyr off the alpaca farm and suffered a shotgun blast to his hip by a neighboring farmer. He lay unattended on the ground when he was discovered by his owners - Michael and Sherry Alpert.

Through years of efforts, expense and loving care the Alperts attended to Sumo's needs while the nerve damage and partial removal of one toe digit healed.

CH Euzkalzale Indian Summer

Thru it all Sumo loved the veterinary staff's attention and never lost his winning smile. He went on to finish his championship in true Pyrenees style! Another Truly Great Pyrenees.
Sassy
Sassy made her show ring debut at the Great Pyrenees Club of America National Specialty in Andover, Massachusetts, May 2-5, 2001. Benefiting from the expert grooming and handling of Karen Bruneau, Sassy was undefeated in the 6-to-9 Puppy Bitch class, in three shows under three different judges.

American judge Dr. Robert M. Brown placed Sassy 1st in the Futurity. Belgian judge Henri Remy awarded her 1st in the Sweepstakes. British judge Keith Savage selected Sassy for first place in the 6-to-9 Puppy Bitch Regular Class.

CH

Euzkalzale Sassafras and Lace

The ultimate high came during Keith Savage's remarks at the banquet on Saturday evening. While he praised that there were so many outstanding dogs in the show, "...the six-to-nine puppy bitch blew me away!...."
Tally

Goodie

Tally is a Hall of Fame producer and her owner's best friend. Her owner Leo took her to a sweat and the shaman enjoyed her company - saying she was an old spirit.
The only problem Leo has with her is that everyone always wants to take her home with them.
Photo - Tally taking care of David




Goodie is in Hall of Fame for production

CH Euzkalzale Ridgerunner Go!

HOF

CH Euzkalzale Oh My Goodness! HOF

Back to Top