Related Links
American Kennel Club
Great Pyrenees Club of America

Euzkalzale Great Pyrenees Pyrpacker
More Information
Please Contact Us Via Email With Any Great Pyrenees Questions or Information Requsts.

pyrpacker@aol.com
or Info@pyrpacker.biz
Euzkalzale Great Pyrenees Breeder
Terry Denney-Combs
Hesperia, California
(760) 792-6757

Pyrenees Puppy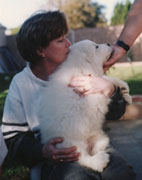 Glory Be! at 8 weeks old with Becky Graves.
CH Euzkalzale Glory Be!
She went on to achieve a Hall of Fame award from GPCA for production.

Two 4-week old Male Pyrenees Pups



-photo by M Cristillo
Great Pyrenees Breeder since 1971
Comments About
Website Function
Email Website Problems or Request Link Updates To The Webmaster.
webmaster@pyrpacker.biz

Our Great Pyrenees Breeding Philosophy
Am a Great Pyrenees small breeder producing few pups yearly. Have been interested in producing healthy, long-lived, good structured and sound temperamented dogs from the beginning. To this end, have x-rayed hips from the start in 1971; CERF'd from the early 80's; and most recently, OFA CHIC, current DNA testing for the breed in hopes of producing healthy dogs.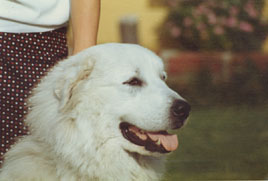 1972 Our First Great Pyrenees Girl Ginger
Regular out crossings are incorporated in the breeding program to add variety in bloodlines. Have done better setting type since breeding by phenotype and placing more emphasis on the grandparent's contributions. Prefer to follow the written standard as closely as possible. All dogs have their faults - have endeavored to keep faults easily seen and eliminated as pups. Have seen much improvement overall in the last twenty years.
Prefer a soft look to the face and although our varieties may vary somewhat, the expression is of utmost importance and is quite similar. The look truly pierces the soul of humans and I always smile when a new owner realizes, "it's like talking to a human, they really understand!" We prefer the overall look of a "natural" brown bear in general. The beauty and intelligence of this noble breed graces this earth with their presence and allows many of earth's creatures to sleep safer.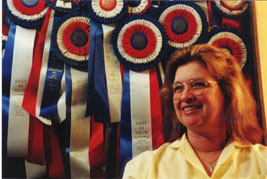 1999 Looking to the Future
Not everyone can appreciate them: their barking is annoying; they fling slurp on the walls; their hair clogs the vacuum; they rarely answer Owner's calls. But, there is no better friend when trouble's around; when they stop the distress with an uproarious growl! Gentle with children, protector of sheep, with one close by it helps me to sleep- bet you can't have just one!
--Terry Denney-Combs
What Is That Euzkalzale Name?
Euzkalzale (ESS'-KA-ZAL) -friends of the Basques in the Basque language.
The Basque shepherds, developed, bred and used the Great Pyrenees in the Pyrenees Mountains to guard their personal flocks of sheep. See the Breed History page on this Website for more information.
Great Pyrenees Purchase Agreements
A Good Great Pyrenees Book
Great Pyrenees: A Complete Pet Owner's Manual by Joan Hustace Walker, 1999
This book is a good overall account of the breed in general. It has a lot of good Pyrenees information at a very good price.

(Book is available at Amazon.com)

Back to Top